Delivery Information

Open or Close

We currently only deliver to the UK Mainland -

For firearms and airguns please see info below*

| | | |
| --- | --- | --- |
| Order Total Amount | Delivery Charge | Delivery Time |
| Under £100 | £3.99 | 1-3 Working Days |
| Over £100 | FREE | 1-3 Working Days |
| Express Delivery | £15.99 | Next Working Day When Ordered Before 2pm |

*

Due to current UK Legislation we are unable to send purchased Guns or Ammunition by mail to a customer unless they are another Registered FA Dealer .However you may purchase the gun or ammunition online and collect in shop - this ensures the product/s are kept for you and not sold. Please phone for more info - 01603 788470.

Payment Options

Open or Close

Pay by Debit or Credit card

You can pay securely during Checkout process using your payment card via Worldpay secured payments system.

Returns

Open or Close

We offer your standard rights. We will be happy to refund or exchange items, which are returned to us within 7 days of purchase, providing they have not been used, worn or item has been opened. Please return the goods to:

Returns
Anglia Tackle and Gun
Station Road Industrial Estate,
Lenwade,
Norwich
NR9 5LY

Please include your order number so that we can find you on our database. Please note that (unless the return is due to a fault or error) we do not refund postage costs and postage will also be charged on any goods we send out in exchange.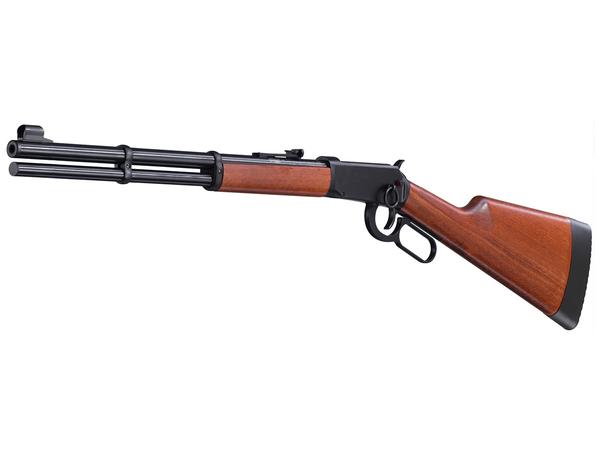 Walther Winchester Lever Action Original CO2 .177
Rating: Not Rated Yet
Description
Great news for the Wild West enthusiast! The immortal Western myth in new edition Walther Winchester. The current versions of the classic lever action combine the latest technology with timeless beauty.
Just the name WALTHER embodies over 100 years, the successful fusion of tradition and innovation. The proven and reliable construction Lever Action has taken on the current state of technology with the 88 g CO2 cartridge .
The shooting fun is enhanced by the much higher shot capacity. A real increase in the fun factor. Thanks to the newly developed high power system this CO2 air rifle achieves optimum results in power and precision.
Blackened metal - wood stock and grips - replica of a western lever action Winchester, but its a powerful CO2 cylinder powered air rifle.